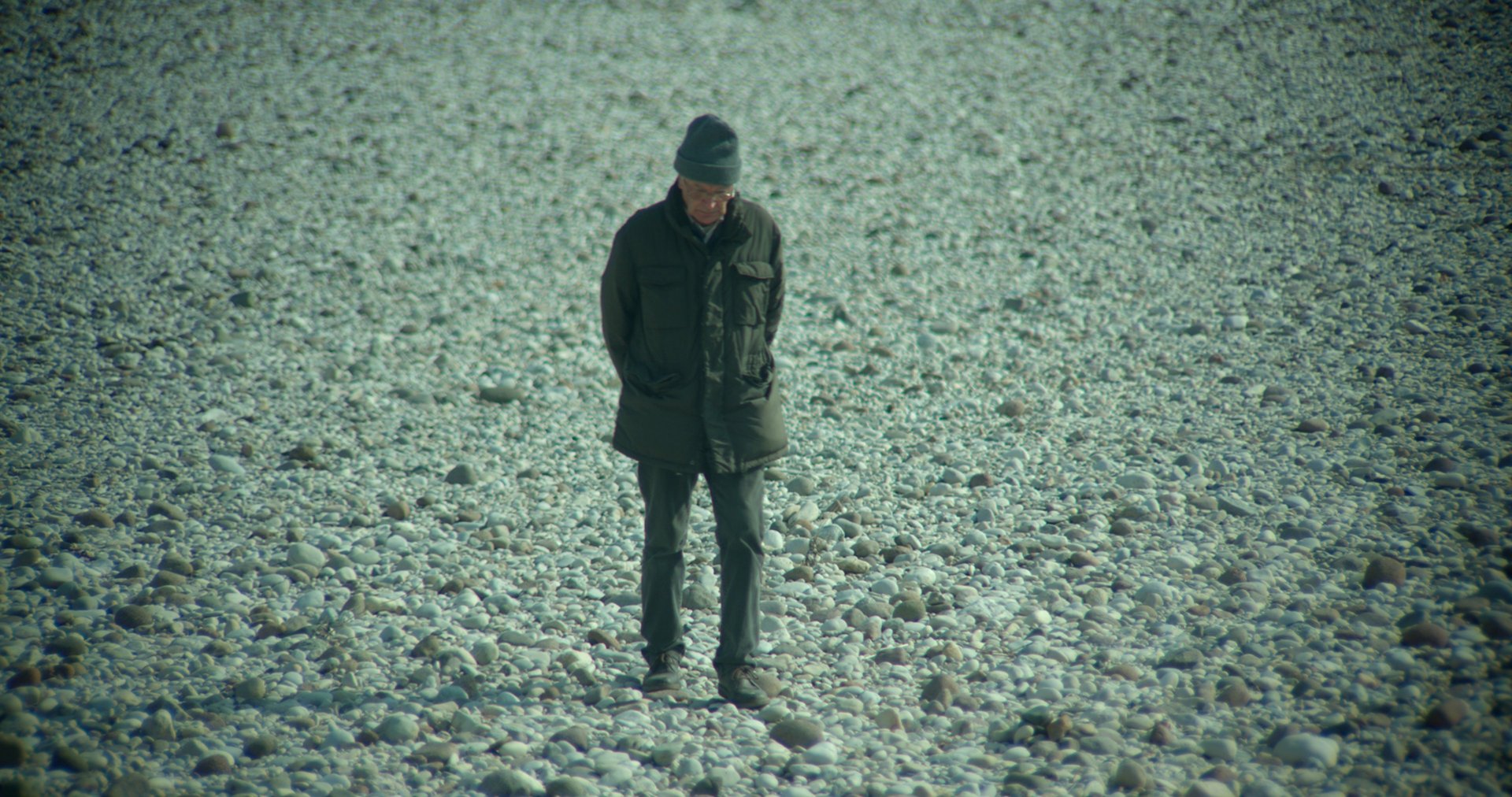 Born in 1937 in Albaro di Ronco all'Adige (Verona, Italy). Third of 12 brothers, the father is a sacristan. Spends his childhood in a college in the mountains of Trentino Alto Adige. When he returns home he becomes attached to his grandmother, illiterate yet depositary of traditional rural values. During his twenties he starts to dedicate himself to poetry in dialect, painting and sculpture. He is awarded with several poetry awards of national relevance. His vases, paintings and ceramics achieve success: some of his artwork is exhibited at the Collection de l'Art Brut Museum (Lausanne, Switzerland). In 1964 he starts collecting stones. In 1966 he marries Tosca Guglielmi and during the seventies his daugthers Genziana and Stella were born. After working in family's shoe shop and then as an healthcare assistant at the Zevio Public Hospital (Verona), since 1985 he has dedicated himself solely to La Ricerca (his collection of stones).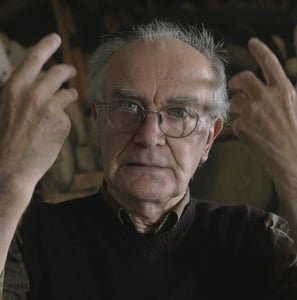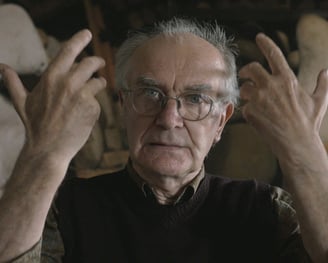 His cathedral-sized installation is a never-ending work in progress: every day new additions and re-arrangments. Only in recent years La Ricerca starts to be studied by art critics. In 2010 the first exhibition: Forme solitarie per un'armonia collettiva (Palazzo dei Mutilati, Verona, Italy). In 2012 he participates in the collective exhibition Banditi dell'Arte (Halle Saint Pierre, Paris) and in 2014 in L'autre de l'Art (Lille Metropole Musée, Villneuve-d'Ascq, France). During 2016 Italian and foreign press talk about his artwork (La Repubblica, Reuters, Die Spiegel, Art Magazine, Artribune), and he is a guest on the tv programme Unomattina (RAI 1).
Giuseppe Petruzzellis (1983), BA and MA in Audiovisual Communication. From 2004 to 2009 he worked as an investigative journalist for the Italian National Public Broadcasting Company RAI. In 2007 he established APLYSIA, a production company specialised in creative documentaries. Since then he has collaborated on more than 70 film projects (19 features), working as screenwriter, producer, director, editor, cinematographer and colorist. Most of the feature films he has edited participated to major film festivals (Venice Biennale – Giornate degli autori | CPH:DOX* | Sheffield Doc Fest | Cinéma du Réel | etc.), were broadcasted on TV (RAI | Sky | Arte) and have had theatre releases in Italy. The short documentaries he has previously directed participated and were awarded at Ji.hlava IDFF | Milano Film Festival | MakeDox | Interfilm | Visioni dal Mondo | Hors Pistes - Centre Pompidou | etc... La Ricerca is his debut feature film.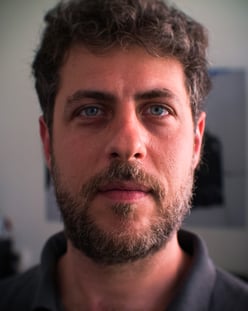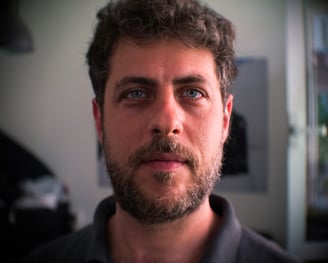 Selected Filmography
Vida Loca (2007 - short doc)

MotorShow (2008 - experimental)

Industrial Bay (2009 - short doc)

Fiumara d'Arte (2010 - short doc)

Indian Flow (2011 - short doc)

Rifiutopoli (2017 - multimedia show)

Non ti scordar di me (2021 - short doc)
Awards (as director / screenwriter) Premio Libero Bizzarri | DocUnder30 | Sedicicorto | Milano Film Festival | Venice OFF | Vicoli Corti | Visioni dal Mondo | Verona IFF | Segni della Notte - Urbino | Mescalito Biopic | Super Shorts Los Angeles.